SAVINGS TRANSFER OVERDRAFT PROTECTION
Your Rivertrust Federal Credit Union checking / share draft account automatically comes with Savings Transfer Overdraft Protection. This is a service that can save you money by avoiding returned check and overdraft fees when you make a mistake balancing your account.
HOW THE PROGRAM WORKS:
This program allows us to transfer money from your savings account to your checking account, or from your checking account to your savings account. Due to federal regulations, no more than six (6) automatic transfers a calendar month may be made. Our fee schedule provides the current charges for each transfer that is made.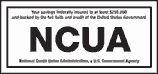 Your savings federally insured to at least $250,000 and backed
by the full faith and credit of the United States Government Agency

National Credit Union Administration, a U.S. Government Agency
▲


Back to Top
THIRD PARTY SITE DISCLAIMER
- You are leaving Rivertrust FCU's website. You are linking to an alternate website not operated by Rivertrust FCU, and Rivertrust FCU is not responsible for the content of the alternate website. The fact that there is a link from Rivertrust FCU's website to an alternate website does not constitute endorsement of any product, service, or organization. Rivertrust FCU does not represent either you or the website operator if you enter into a transaction. Privacy and security policies may differ from those practiced by Rivertrust FCU, and you should review the alternate website's policies. CLICK CONTINUE TO CONTINUE OR CANCEL TO ABORT.
Continue
Cancel