OVERDRAFT PRIVILEGE
Your Rivertrust Federal Credit Union checking / share draft account comes with complimentary Standard coverage which may save you money in excessive and abusive fees by merchants and other Banks just in case you make a mistake balancing your account. Unless you tell us that you do not want this service by calling us, Rivertrust Federal Credit Union authorizes and pays overdrafts for the following types of transactions:
Paper Checks
A recurring ACH transaction that was made using your Debit Card – such as a gym membership
Non- Debit card ACH Transaction - such as using your account # to pay a bill
Rivertrust Federal Credit Union will not pay overdrafts for ATM or everyday debit card transactions unless you have given your consent by extending coverage to the payment of these overdrafts. Please refer to the Extended Coverage section for more information about extending your coverage.
This discretionary service will be limited to a $500.00 overdraft (negative) balance for Checking Accounts only. Your account will be debited our overdraft fee of $25.00 for each overdraft we pay. Without this coverage, your item will be returned for a fee of $28.00. This fee is applied to your $500.00 overdraft limit.
In Order to Maintain this Service you must:
Be at least 18 years of age
Have a valid mailing address on file at Rivertrust Federal Credit Union
Account must be open and active for at least 35 days
Have not defaulted on a loan at Rivertrust Federal Credit Union or be more than 30 days past due on an existing River Trust Federal Credit Union Loan
Your account must have been brought to a positive balance at least once every thirty two (32) days. If you do not want this service, please call us at (601) 664-2085.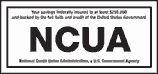 Your savings federally insured to at least $250,000 and backed
by the full faith and credit of the United States Government Agency

National Credit Union Administration, a U.S. Government Agency
▲


Back to Top
THIRD PARTY SITE DISCLAIMER
- You are leaving Rivertrust FCU's website. You are linking to an alternate website not operated by Rivertrust FCU, and Rivertrust FCU is not responsible for the content of the alternate website. The fact that there is a link from Rivertrust FCU's website to an alternate website does not constitute endorsement of any product, service, or organization. Rivertrust FCU does not represent either you or the website operator if you enter into a transaction. Privacy and security policies may differ from those practiced by Rivertrust FCU, and you should review the alternate website's policies. CLICK CONTINUE TO CONTINUE OR CANCEL TO ABORT.
Continue
Cancel